Is Digital Payday a scam? My Guess Is There Will Be No Payday!!
This post may contain affiliate links. See my disclosure page for information
by Dale – Feb 08, 2019
Welcome to my Digital Payday review!
There's a good chance you have been sent to a Digital Payday page trying to sell you the opportunity. I know you are likely wondering if this opportunity is a good one or not!!
Then again you might be having some scary thoughts and you may have the question is Digital Payday a scam??
There is a good chance that you know there are a ton of scams out there already. This review will hopefully see what you are getting into.
I just want to say you are doing a really smart thing by doing your homework before you buy anything. Homework is how you avoid scams and find the programs that show you how to write and make money in 2019. Now that we are talking about Digital Payday we are talking about so many scams out there. I have exposed others and will continue to expose others and with Digital Payday I will prove it with this review.
I am going to show you everything about Digital Payday and how it works at emptying your wallet. I will show you what a complete fraud it is.
Table of Contents
Review of Digital Payday
Everything About Digital Payday
Will Digital Payday Even Work
Ya Think Digital Payday Is A Scam
Digital Payday Isn't Really Owned By Daniel Bluth
Fake Testimonials All Over The Place
Easy And Free (Ya Okay!!)
Does It Even Make Sense?
You Are Only One Of 50
Is Mark Zuckerberg Really Involved?
Finally, The Truth About Making Money Online
The Digital Payday Review
Name: Digital Payday
Website URL: digitalpayday.co
Owner: Daniel Bluth
When Created: July 2018
Price: Free
My Rating: 0/10
We are all tired of scams so check my first option at making money online
Everything About Digital Payday
The red flags about Digital Payday jumped out at me almost immediately from the sales page. It was pretty clear early on that it is a terrible program.
The moment I came across the Digital Payday sales page I thought it was a scam because of the red flags that are easy to see.
But I didn't want to think it was another scam like the others so I started watching the sales video to see what this is about.
The supposed owner one and only Daniel Bluth has a way of making you think Digital Payday is the best thing since sliced bread.
Apparently you should be able to start making money almost instantaneously because the users that come together with this program will get access to a secret website.
A big red flag is you do not have to learn anything or you can have zero experience because apparently the system will do all the work and let you get rich.
If this was true you would be able to just sign up, pick a few ads and just like that your bank account will start to fill up.
The claim Daniel makes in the video is that you can start to make money 10 minutes after you become a member and if that isn't good enough the claim is made that you will make $5000 in your first 24 hours.
What's even better is that Daniel isn't asking for a red penny but yet we are all being told that we are going to make a lot of money very quickly and without doing any work. Hmmm, can you say red flag?
But I have left the best for last. The biggest claim is that every single person that has joined have all quit their day jobs so we all know this makes the best opportunity out there.
If this system works so well, why don't they keep it secret instead of telling you about it?
It makes no sense that they are giving away a system that can make you thousands of
dollars for free. I mean, there's no such thing as a free lunch.
I've reviewed many pages and programs that make these kind of claims and they
all turned out to be blatant scams, and Digital Payday is no different.
Does This Digital Payday Thing Work?
Let's just say there is a better name for Digital Payday. That name is No Payday. Please understand this is only going to work for the cons to get you to empty your wallet.
The not so great people of Digital Payday make the claim that this is no where near being a scam because the program is free. Well I'm here to tell you that free actually costs a lot of money.
The minute after you finish filling out the forms you are gonna be taken to a platform that is going to try and convince you to make an investment of $250 and shortly after this they will try and convince you to invest even more because apparently more investment will help you make more money.
Once all the money is invested you will get the opportunity to buy banners where you will be told to plaster all over third party sites.
The fact of the matter is you won't even know if your bought ads are being seen. Of course everyone wants you to believe you are getting the clicks and the cons will even try and convince you of that. But what you need to know is there will be no one clicking on your ads.
They want you to think you are getting lots of clicks so that you will buy more ads. As for a refund don't even try and go that route because it's just not going to happen.
As for the money in the back office. It may look great but they will never let you take the money out. When you ask for the money they will ask for more details and will come up with a million excuses but the fact is they will never let you take it out.
So I am going to give you a scam breakdown.:
Talk you into investing as much as possible
Make it look like you are making money so you buy more banners.
You won't be allowed to take any money out that you believe you earned.
 
So if you look at these it's obvious that the more you invest the more you will lose.
>>Click Here To Get A Real Opportunity
Digital Payday, Is It A Scam?
That's the question of the century and the big answer is yes it absolutely is a scam and here are a few reasons:
Not even close to being a legit or real program
Leads you to a scammy click and banner site.
Gives you a ton of lies which turns into false expectations.
I have told you once and will tell you again that with Digital Payday you will end up with much less money than you started with. Even if you can get past the money you need to think of all the time you will be wasting that you could have used on a legit opportunity.
So in the next segment I am going to point out the red flags from the Digital Payday sales page.
Digital Payday Is Not Owned By Daniel Bluth
A self-made millionaire who calls himself Daniel Bluth claims to be the owner of Digital Payday.
He works so hard for you to think this is legit and there will be no scamming involved. He tries to make the claims that early on he was scammed and knows what it feels like.
However, his story is a total fabrication and he's a fictitious character used for this scam.
The fact of the matter is the people who actually own Digital Payday don't make their names known simply because they know they are scammers. This shouldn't really be a surprise to anyone.
Fake Testimonials Are Yet Another Red Flag
Now we need to talk about all the testimonials. Oh by the way as great as those sound they are very fake. The claim of thousands of dollars just aren't real.
Every single one of the testimonials are fake testimonials made from actors who are hired through Fiverr and some of them make as little as 5 bucks per testimonial. Paying 5 bucks is nothing for these scam artists. I will show you a few screen shots of some of the fake people giving testimonials.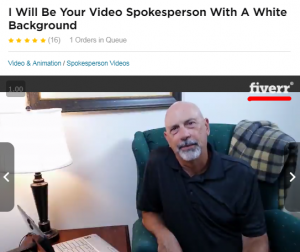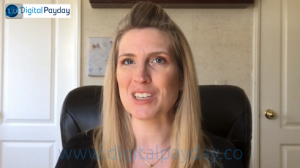 Just in knowing that fake testimonials are being used is enough to tell us that this has scam written all over it.
If the program was so great then why would they have to use all these fake testimonials. The fact of the matter any real testimonials are all negative.
Be Leary Of Easy And Free
One of the biggest flags out there is when someone tells you that the program is easy and free. Yes there are a few good free programs out there but I'm here to tell you they are not easy.
Let's face facts, if making all this extra money was easy then everyone would be millionaires. At the end of the day if you are not willing to put in the time and effort then maybe making money online isn't your cup of tea.
Also when it comes to free you need to realize that sometimes you need to pay. However you should never pay if you are not getting a premium service for the dollars you are laying out.
You always find free trials and free training but there is always better if you are willing to pay a little. Now I am not saying to pay for scams but you do nee to be willing to give a little to get a little.


What Really Makes Sense
The things that are being sold to you at Digital Payday really don't make a lot of sense especially when it comes to websites and placing ads.
Just think about your ads that are on Google or Facebook. You don't get paid for the numbers of clicks you get but rather you get paid a commission when someone clicks on something and buys.
Facebook and Google are the ones getting paid for the ads and justifiably so.
Plain and simple the people at Digital Payday are counting on the fact that many don't know how the advertising in the online world works. So what they are doing basically is telling you what you want to hear in order to get you to empty your bank account into theirs.
Only 13 People Left
When you are looking at a scam many times the company will do everything possible to make you stay away from doing any research. They don't want you to find out the truth. So they will tell you that you need to be quick or you will miss out on the great opportunity.
So when they say they are only accepting so many applicants they are actually lying because they are ready to take any ones money for as long as people are willing to give it.
Let's face it these people will never limit the amount of people that are allowed to buy into.
I Love The Mark Zuckerberg Lure
The funniest thing is how they claim that Mark Zuckerberg is all about Digital Payday
It really doesn't take much research to figure out that anything that states Mark and Digital Payday are actually affiliated. Actually quite quickly you will see how fake this all is.
The scammers have actually taken the time to do a photo shop by putting a Digital Payday logo into one of Mark Zuckerbergs actual seminars.
Just look at the pictures above and you quickly see what a scam this really is. This is a real affiliate marketing spoof.
If you do some research, you will not find anything concerning Mark Zuckerberg and ClicksDealer because it's all fake.
These scammers have photo shopped the Digital Payday logo into the background of that screen to make it look real.
I know this because I did an image search and found the original picture on this website here. See the proof below:
Let's face it with Mark Zuckerbergs money if he was affiliated with Digital payday for real everyone would know it exists and it would be a huge opportunity.
The proof s all over the internet that there is no corolation between Mark Zuckerberg and Digital Payday.
Here Is Another Digital Payday Scam
What these guys are great at is getting your information. In this case the claim of free means you give them your information. Meaning address, email and phone numbers.
Once this is accomplished the door is open for copious amounts of spam.
Rest assured you will get the spam and if you read the fine print in the free contract you are basically giving them permission to spam you with anything they want.
Earning Online Can Be Great
At the end of the day in this article I have talked about a lot of things but the most important is my suggestion would be to stay away from Digital Payday. The fact of the matter is by far this is a scam no matter how you look at it. Of course the decision is entirely up to you but I hope I helped inform you to the best.
The truth when you came to the internet to work is that you can make the kind of money that Digital Payday claims but it's going to take time and hard work. If you want substantial money you need to put in substantial work.
One of the biggest and easiest ways to stay away from opportunities like the scam Digital Payday is to remember the red flags. If these are encountered they are usually good signs that you are about to lose your money to scammers.
I was there many years ago. I was buying all kinds of programs like Digital Payday but by now I have realized that the only programs or opportunities of any value are ones that you have to work for to earn a living.
The cool things about the opportunities that take a while to earn money usually keep an income coming in for years. Eventually it will be month after month and last forever.
The things I do work with the products you see every day around you. You don't even have to make a product in order to profit. You do that from other peoples products.
There are a ton of people learning to do business in this manner to earn an online income. Keep in mind these things keep going for years and years because new products are being made on a daily basis.
This business is my passion and because of that I have created a tell all about the business I use to make a living online. Below you can see a free guide to know exactly what is a great opportunity.
The free review you are going to read will show you how the business works and all the tools you will need to learn how to do this business.
The best thing is I will also show you how you can get started in this business for free. Yep, it doesn't get better than free but to see I'm not kidding all you have to do is take a look.
The best part of this new life you are going to embark on is that you will never be alone. First off you will always get free support from me and secondly you will have a community of thousands that are going to be there to help you as well.
I feel great that I could steer you away from a scam and put you in the right direction to earn money online!!
I hope this Digital Payday review worked and helped you out in order to make the decision that will work best for you. Be sure to let anyone else know about this review as well.
One other thing is below you will find a place to leave comments. In there you can leave a comment, ask any questions or plain and simple just leave your opinion.